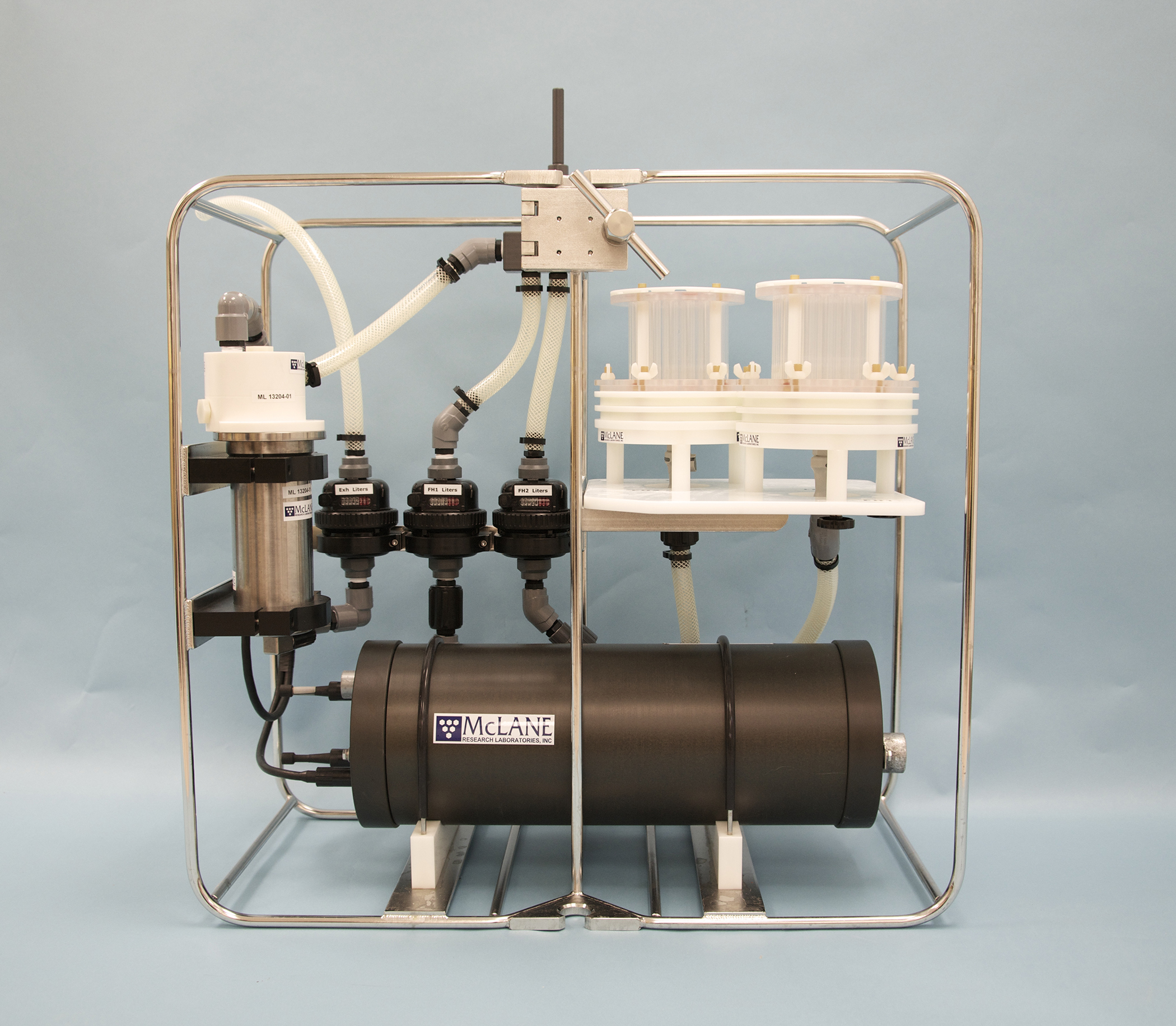 Brief Description:
The Large Volume Water Transfer System (WTS-LV) is a large volume single-event sampler that collects suspended and dissolved particulate samples in situ into a 142mm membrane filter. The WTS-LV allows for a choice of pump size and filter porosity for a range of specimen collection. Collection targets include chlorophyll maximum, particulate trace metals, and phytoplankton.
The WTS-LV dynamic pump speed algorithm adjusts as material accumulates on the filter minimizing risk of a damaged sample and improving battery endurance. The modular filter holder is designed to evenly distribute collected material. A three-tiered filter holder option is also available.
The WTS-LV is available in four different configurations: Standard, Upright, Bore Hole, and Dual Filter Sampler.  A high capacity upright WTS-LV model provides three times the battery life of the standard model. The Bore-Hole WTS-LV is designed to fit through a narrow opening such as a 30cm bore-hole. The WTS-LVDF features two vertical intake 142 mm filter holders to allow simultaneous filtering using two different porosities.
Overview
NUMBER
OF SAMPLES:
Single event sampler
FILTER HOLDER:
Black acetal/142 mm diameter
DEPTH:
Maximum depth 5,500m (standard model), 5,000m (upright model)
TEMPERATURE
RATING:
0° to 35°C
POWER:
10Ahr battery pack (15,000 liters of seawater)

30Ahr battery pack on upright pump (36,000 liters of sea water)
PUMP
OPTIONS:
LV04
Flow rate
1 to 4 liters/min
Max volume
2,500 liters (10Ahr battery)
Filter type
Nuclepore or other membrane filters
LV08
Flow rate
4 to 8 liters/min
Max volume
5,000 liters (10Ahr battery)
Filter type
GFF, QM-A or other membrane filters
Upright only
LV30
Flow rate
15 to 30 liters/min
Max volume
12,000 liters (10Ahr battery)
Filter type
Large opening mesh filters
For further information, download the WTS-LV Data Sheets or Contact us.
Support
A complete WTS-LV software distribution is available on CD from McLane. The distribution includes the current version of the WTS-LV Firmware, User Manual, and Crosscut communication software. Software downloads provide the most current versions of utilities such as Crosscut. An instructional video on the WTS-LV battery holder is also available.
A list of available pump heads with recommendations based on filter type and flow rate is available for reference.
Quick link to Pump Head Sizing and Filter Porosity reference
Quick link to Filter Holder Specifications chart
Visit our Library for a complete selection of WTS-LV documentation and other product resources.
McLane offers a hands-on course in WTS-LV operation. WTS-LV owners and prospective owners are invited to spend one day at our facility.
Learn more about Support and hands-on product training.