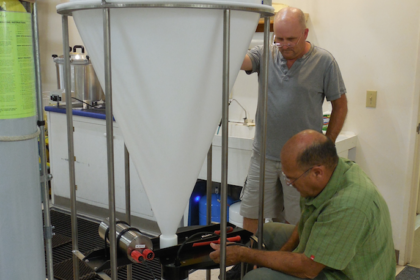 Well-prepared instrument users have greater success in the field.  Training is included with all McLane instrument purchases.  To get the most of our instrument training, consider these six tips:
Budget for training with McLane.  Instrument training at our facilities in Falmouth, Massachusetts is included with a purchase of an instrument. However,  travel, room and board are not.  Budgeting for these expenses early in the proposal process allows for a higher probability of funding this training.
Consider also sending the actual end field user — which may be a student or technician and not just the instrument owner.  McLane can accommodate small groups for training.
Contact us to schedule a training session.  Ideally, we train you on your instrument, and thus plan on arriving before your instrument leaves our facilities.  Our office is also happy to help with suggestions for local logistics.
Communicate with us to tailor our training for your particular application.  Let us know your scientific objective, the location, and depth. Most sampler and profiler classes are one to two days. However, we can tailor our training for multiple instruments and interests.
Download the manual and read about your instrument before arrival.  Our website hosts an extensive library of manuals, data sheets, technical service bulletins, and other papers and media.
Keep in touch!  Let us know the results of your field season.  McLane trades T-shirts for deployment photos.
Training at your site is also available for a daily rate charge plus all expenses.  Training is mandatory for the ESP and IFCB.
Contact us for more information.