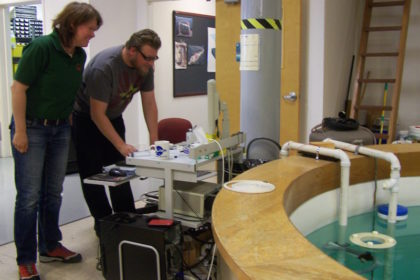 Dr. Mats Granskog and Dr. Agneta Fransson, researchers from the Norwegian Polar Institute, visited McLane in June for training on their Remote Access Sampler (RAS). The NPI team will be deploying two samplers in the Arctic off the coast of Greenland deployment in the Fram Strait (79 degrees N) in Aug 2012 to measure freshwater outflow from Arctic.
The two-day training consisted of bench testing, plumbing, programming a deployment, and recovering the RAS from the 15 meter test tank in our lab. If you own a McLane profiler or sampler or are thinking of purchasing from our product line, hands-on product training is an ideal way to familiarize you with your instrument prior to deployment. We encourage you to visit our East Falmouth, MA USA facility. You will leave with new product expertise and possibly a McLane T-shirt.
The Remote Access Sampler (RAS) is a deep water or coastal time series water sampler that collects samples for biological, dissolved major and minor nutrient, dissolved trace metal, or dissolved organic carbon analyses. The RAS sampler collects ambient water and suspended material in Tedlar® bags, isolating the samples for subsequent laboratory analysis. The RAS-500 collects 48 samples of 500ml each and the RAS-100 collects 48 samples of 100ml each, following a user defined sampling schedule. RAS systems can optionally be fitted with in-line pre-filters and an external temperature sensor.
For more information about product training, see our
Support
  page or contact us.