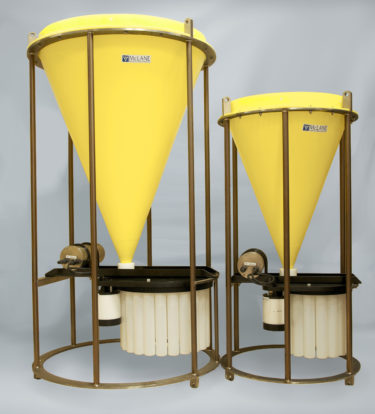 Brief Description:
Time-series sediment traps were the original McLane Research Laboratories product line when the company was founded in 1983.
Sediment Traps collect vertically settling particles into individual sample bottles which are sealed when not in collection mode.
Our traps provide exceptional performance for biogeochemical studies including radionucleide, paleoproxy, carbon cycle analysis. They are also beneficial for environmental and pollution monitoring.
Features
Time-series sampling is pre-programmed or triggered adaptively.
Mark 78H Sediment Traps have 13 or 21 sample bottles of 250ml or 500ml.
Mk8 Model is half the size of the Mk78H for easier handling and deployment.
Titanium frame and electronics housing for best corrosion resistance (Aluminum housing also available).
Polycarbonate hexagonal baffle.
Sample bottles tested in 90 degree configuration to ensure sample collection.
Overview
TRAP MODELS:
PARFLUX Mark78H-21
PARFLUX Mark78HW-13
No. sample bottles
21 or 13 (wider bottle)
Standard bottle vol.
250 ml or 500 ml
Height and diameter
164 cm x 91 cm
Weight in air
72kg (bottles full)
PARFLUX Mark8-13
No. sample bottles
13
Standard bottle vol.
250 ml or 500 ml
Height and diameter
116 cm x 66 cm
Weight in air
42 kg (bottles full)
MAX DEPTH:
7,000 m (10,000 m model available)
OPERATING TEMPERATURE:
-2° to 35 °C (electronics tested to -10 °C)
STORAGE TEMPERATURE:
-20° to 50 °C (electronics tested to -10 °C)
COMMUNICATIONS:
Serial (RS-232), Ethernet optional
MIN DEPLOYMENT:
1 min per sample
MAX DURATION:
18 months
POWER SUPPLY:
14 "C" size alkaline cells
OPTIONS:

Wet Sample Divider splits wet specimens.
Adaptive firmware (on-shore commands).
Pressure sensor (depth).
Tilt sensor (mooring tilt).
Ethernet connection.
Deep model for deployments to 10,000m.
Aluminum pressure case.
For further information, download the Mark78-H, Mk8 or WSD-10 Data Sheets or Contact us.
Support
A complete Sediment Trap software distribution is available from McLane. The distribution includes the current version of the Sediment Trap Firmware, User Manual, and Motocross communication software. Software downloads provide the most current versions of utilities such as Motocross.
Quick link to Sediment Trap software
Visit our Library for a complete selection of Sediment Trap documentation and other product resources.
McLane offers a hands-on course in Sediment Trap operation. Sediment trap owners and prospective owners are invited to spend one day at our facility.
Learn more about Support and hands-on product training.