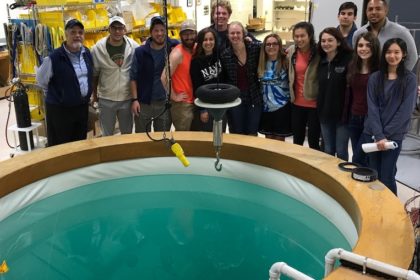 SEA Education Association (SEA), recently visited McLane for a presentation and tour while in Woods Hole mobilizing for their upcoming cruise. The McLane Large Volume Water Transfer System (WTS-LV) is among the oceanographic samplers students learn to deploy during the SEA Semester. Sea Education Association (SEA) is an internationally recognized leader in undergraduate ocean education.
Students and staff attended a presentation and toured McLane instrument manufacturing and glass production facilities, watched a live demo of an IFCB capturing images from a local water sample, and spoke with engineers about our samplers, profilers and flotation.
The WTS-LV is a large volume single-event sampler that collects suspended and dissolved particulate samples in-situ into a 142mm membrane filter. Models include  Standard, Upright, Bore Hole, and Dual Filter samplers. See our website for more information about the WTS-LV and other instruments.
McLane is a proud member of the Cape Cod community and is active in science education at a number of our local schools and organizations.  We remain committed to helping teachers and scientists inspire the next generation of researchers.  This summer and fall we enjoyed hosting programs including a Girl Scout discovery day, and a tour of 19 STEM teachers from the Falmouth Schools.  Visit our Community page for a full list of our recent events.
If you have an educational project in which McLane may help, please contact us for more information,