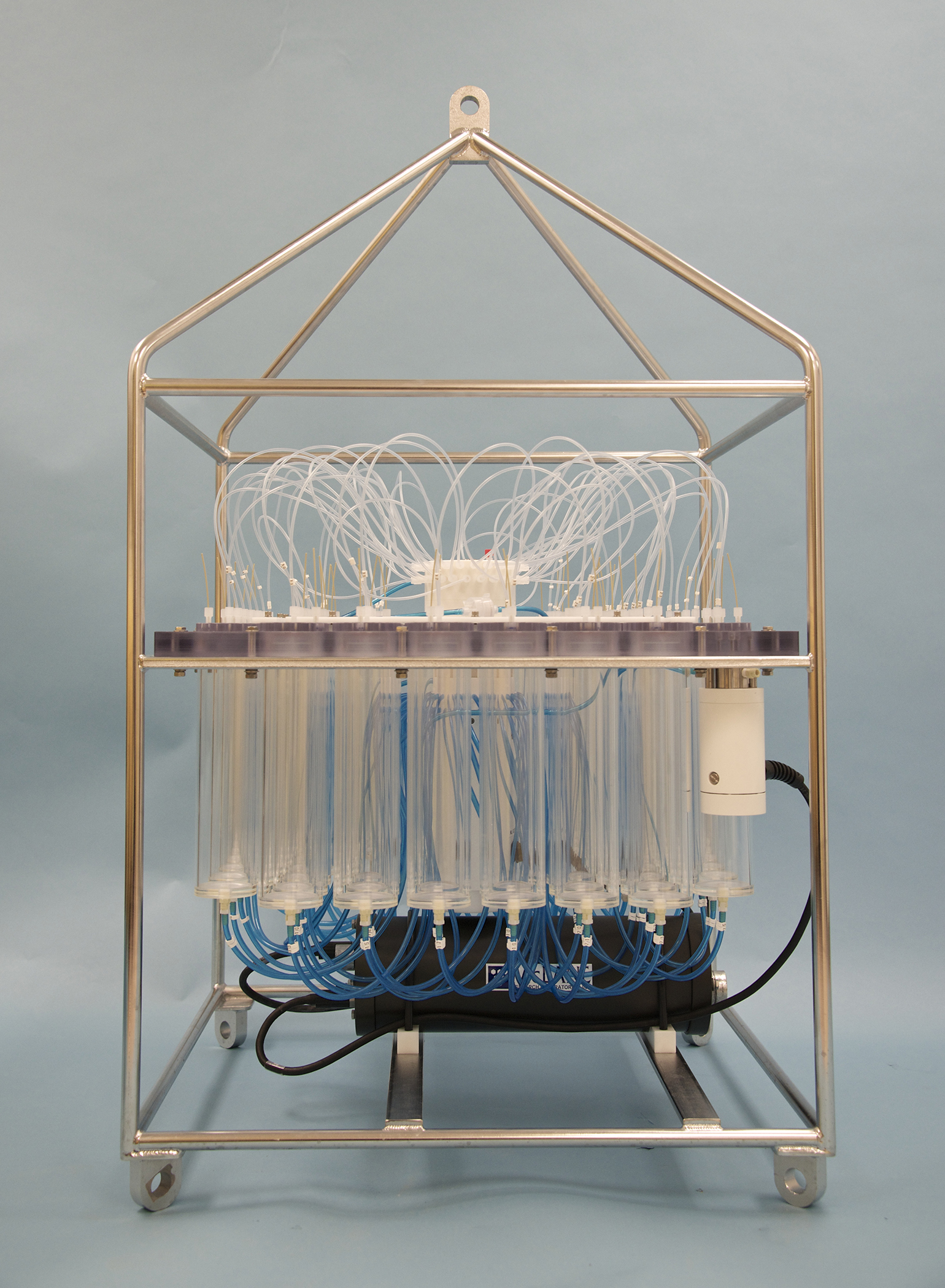 Brief Description:
The Remote Access Sampler (RAS) is a deep water or coastal time series water sampler that collects samples for biological, dissolved major and minor nutrient, dissolved trace metal, or dissolved organic carbon analyses. The RAS sampler collects ambient water and suspended material in Tedlar® bags, isolating the samples for subsequent laboratory analysis. The RAS-500 collects 48 samples of 500ml each and the RAS-100 collects 48 samples of 100ml each, following a user defined sampling schedule. RAS systems can optionally be fitted with in-line pre-filters and an external temperature sensor. Deployment data with a report of sample event conditions is stored to non-volatile EEPROM.
Overview
NUMBER OF SAMPLES:
48 100 ml or 500 ml samples
DEPTH:
Maximum depth of 5500 m
TEMPERATURE RATING:
Temperature 0 to 35 °C
MIN/MAX DEPLOYMENT TIME:
10min per sample/18 months
PUMP FLOW RATE:
75ml/min fixed rate (+/- 3% error)
POWER CONSUMPTION:
RAS-500: 3.5 Ahr (1 year deployment)
RAS-100: 3.1 Ahr (1 year deployment)
SAMPLE BAG MATERIALS:

2 mm Tedlar

®

(clear), 4 mm Mylar laminated (opaque) or 4 mm Kynar (clear)
For further information, download the RAS-500 Data Sheet, the RAS-100 Data Sheet or Contact us.
Support
A complete RAS software distribution is available on CD from McLane. The distribution includes the current version of the RAS Firmware, User Manual, and Crosscut communication software.
Software downloads provide the most current versions of utilities such Crosscut. An instructional video on priming the RAS-500 is also available.
Quick link to RAS software
Visit our Library for a complete selection of RAS documentation and other product resources.
McLane offers a hands-on course in RAS operation. RAS owners and prospective owners are invited to spend one to two days at our facility.
Learn more about Support and hands-on product training.