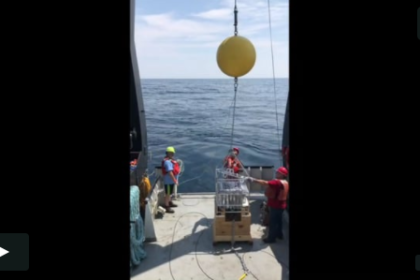 See video  of the Reavie Lab from the University of Minnesota, Duluth (UMD) deploying a McLane Remote Access Sampler (RAS) in Lake Huron.  The Reavie team pursues research in applied aquatic studies on freshwater ecosystems, evaluating water quality issues. Routine work focuses on the use of algae as indicators of environmental changes. The RAS Lake Huron deployment was part of a UMD Natural Resources Research Institute (NRRI) study funded by EPA GLNPO. (Video: Elizabeth Alexson, UMD NRRI).
In addition to the recent RAS  Lake Huron deployment, a McLane Environmental Sample Processor (ESP), was also recently deployed in Western Lake Erie . Click here to see the University of Michigan / NOAA GLERL Great Lakes deployment video.
The RAS is a deep water or coastal time series water sampler that collects samples for biological, dissolved major and minor nutrient, dissolved trace metal, or dissolved organic carbon analyses. The RAS sampler collects ambient water and suspended material in clear Tedlar® or opaque laminated bags, isolating the samples for subsequent laboratory analysis. Pre and post sample adid cleaning cycles can be programmed. The RAS-500 collects 48 samples of 500ml each and the RAS-100 collects 48 samples of 100ml each, following a user defined sampling schedule. RAS systems can optionally be fitted with in-line pre-filters and an external temperature sensor. Deployment data with a report of sample event conditions is stored to non-volatile EEPROM.