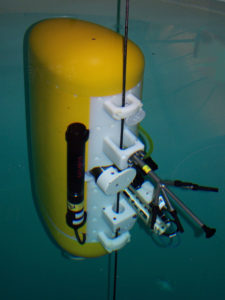 The McLane Moored Profiler (MMP) autonomously profiles the water column in a time-series along a fixed tether.
Profiling depth, time intervals and pressure stops are user-defined, and profiling patterns can span specific seasons or timeframes. An optional underwater inductive modem provides real-time communication between the MMP and a surface buoy or seabed node.
We offer two MMP models: the standard and extended version. The extended MMP provides 50% more battery capacity and is 12.7cm longer than the standard MMP.