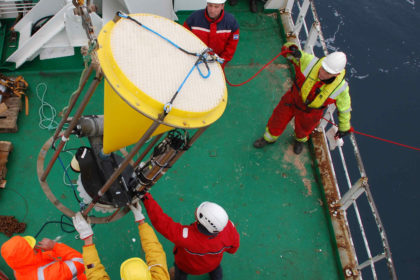 McLane
sediment traps
 provide exceptional performance for biogeochemical studies including radionucleide, paleoproxy, and carbon cycle analysis. They are also beneficial for environmental and pollution monitoring.  Sediment Traps collect vertically settling particles into individual sample bottles which are sealed when not in collection mode.
McLane have several options to fit your project needs:
250ml or 500ml bottle sizes with the option of wide (Mark 78 only) or narrow mouth.
Standard Sediment Trap : Titanium frame and controller housing (7,000m depth rating).
Aluminum controller housing for more shallow deployments: Aluminum controller housing offers cost savings for deployments less than 5,500m deep. Other cost savings options are available based on deployment needs.
Deep Sediment Trap: Controller housing with specialized bulkhead connectors (10,000m depth rating).
Ethernet, compass tilt, and other sensor options for pressure, temperature, depth.
The Wet Sample Divider (WSD-10): This optional accessory divides a wet particle sample into five or ten equal parts. Without drying, the divided samples are preserved and contamination risk is reduced. The WSD-10 is particularly suited for high precision preparation of biogeochemical analyses.
Contact Us
to discuss these options and the compatibility with your science.