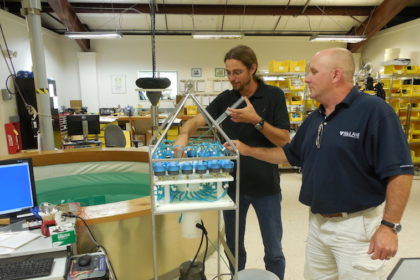 McLane's Phytoplankton sampler (PPS) is a time-series, in-situ instrument that collects 24 individual, filtered particulate samples. The PPS is suited for analyzing trace metals, phytoplankton, zooplankton and micro-plastics. A multi-port valve keeps samples separate, and pumps water directly onto a 47 mm filter. The PPS is deployed on a fixed mooring. Deployments can be up to 14 months and as deep as 5,500 m.  A drop-in battery holder is powered with user replaceable "D" cell alkaline batteries.
There are also several options to fit your project needs:
A Fixative Valve provides a secondary intake and exhaust path to flood each filter holder with fixative after sample collection. This sample preservation is useful for later genomic analysis.
An Antifouling Solution Reservoir provides a 500ml reservoir for a post-sample flush with anti fouling fluid of your choice. An Anitfouling flush helps to prevent biofouling between sample events.
The Standard pump speed is 125 ml/min. A 250 ml/min pump is also available.
For more information, access the the PPS Data sheet, PPS Manual, or PPS Papers and Media from our Library.
Contact us to discuss these options and their suitability for your science.