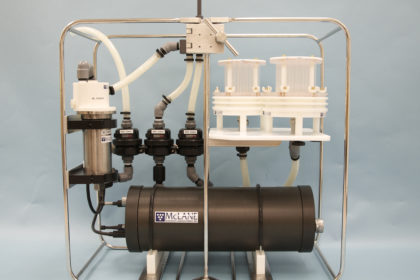 In 2015, a hydrothermal vent sampling cruise will deploy the first McLane-manufactured WTS-LV dual filter samplers. Following a technology transfer from Woods Hole Oceanographic Institution (WHOI), McLane will deliver WTS-LVDF samplers with newly designed dual vertical intake filter holders to Commonwealth Scientific and Industrial Research Organisation, Australia (CSIRO) for a 2015 cruise in the Southern Ocean.
The WTSLV-DF uses a new WTS-LV frame design, upright WTS-LV controller housing, and other deployment-proven WTS-LV features. Two new vertical intake 142 mm filter holders are installed to allow simultaneous filtering using two different porosities. The Vertical Intake filter holders can also be used as a single filter holder option on the standard and upright WTS-LV.
Previously, the WTS-LV has delivered strong sampling results for Hydrothermal vent studies, including WHOI's interdisciplinary LADDER (LArval Dispersal on the Deep East pacific Rise) project which deployed several WTS-LV samplers over several years at 9N on the East Pacific Rise. LADDER data helped scientists rethink theories about deep-sea larvae dispersal. (Left, WTS-LV Recovery During a LADDER Cruise at the Pacific Rise
Shown: C. Strasser and P. Hennessy, Photo: S. Mills)
CSIRO plans to deploy the WTS-LVDF samplers at the Kerguelen Plateau off the Heard and McDonald Islands in the Southern Ocean. Researchers hope to test a hypothesis that surface waters are fertilized with iron when active submarine Magmatism is driven by hydrothermal activity. Results can also finger-print plumes at the study site and produce three-dimensional, high resolution maps of trace element distribution in suspended marine particles.
TThe WTSLV-DF is now available for purchase. Contact us more details.