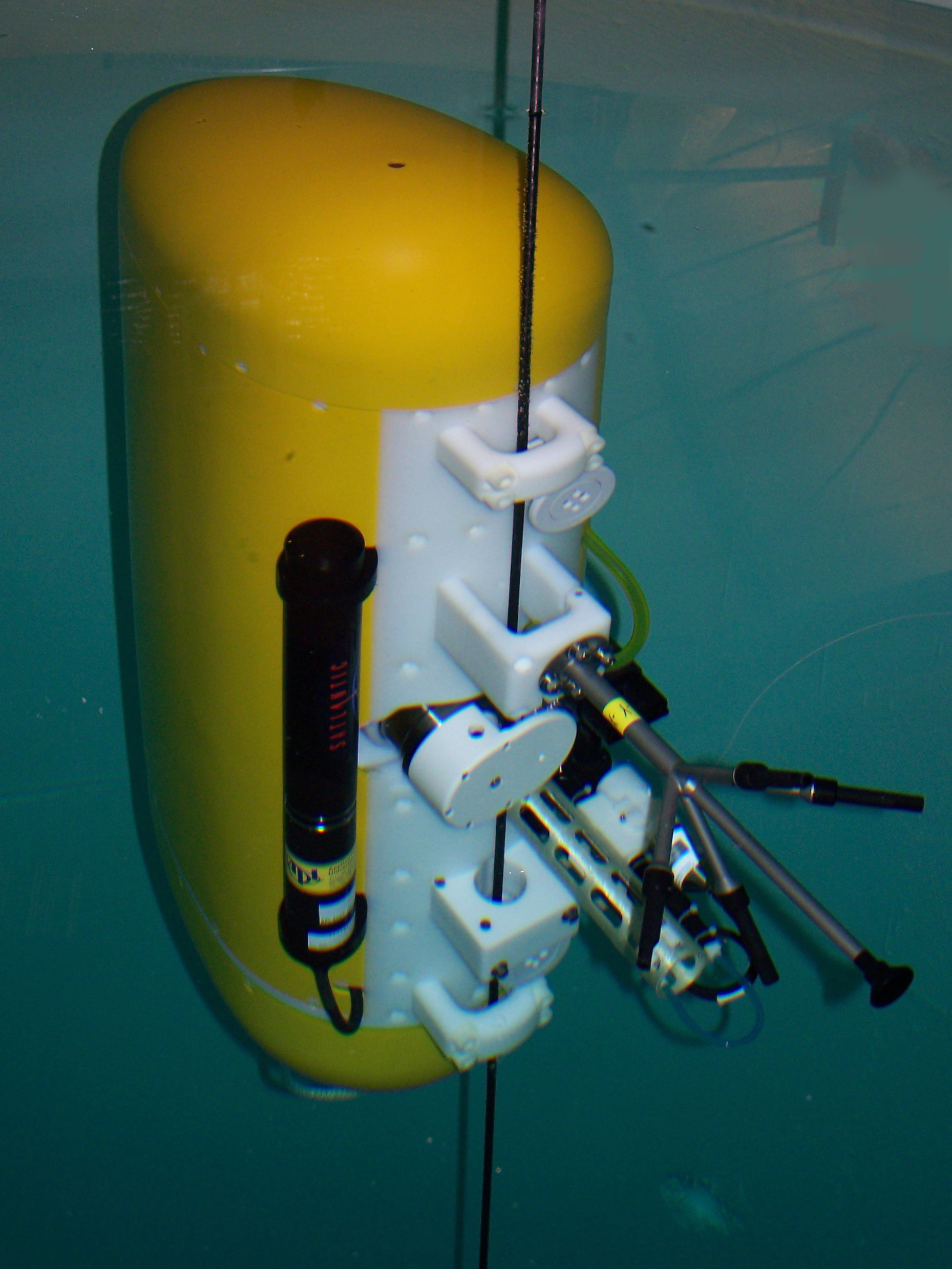 Brief Description:
The McLane Moored Profiler (MMP) autonomously profiles the water column along a fixed tether while carrying a selection of oceanographic sensors.
Profiling depth, time intervals and pressure stops are user-defined, and profiling patterns can span specific seasons or timeframes. An optional underwater inductive modem provides real-time communication between the MMP and a surface buoy or seabed node.
We offer two MMP models: the standard and extended version.  The extended MMP provides 50% more battery capacity and is 12.7cm longer than the standard MMP.
Overview
| | |
| --- | --- |
| DEPTH: | 30 m to 6000 m (mooring dependent) |
| TEMPERATURE RATING: | Min temperature -20°C |
| PROFILING SPEED: | 25 cm/sec |
| POWER: | 11.7 V |
| BATTERY ENDURANCE: | Standard MMP: 240Ah battery. Extended MMP: additional 120Ah battery. |
SUPPORTED SENSORS*: 
Seabird 52MP CTD
Seabird Inductive Modem
Teledyne RDI Micro CTD
Seapoint Turbidity
Falmouth Scientific Current Meter
Aanderaa Optode
Seapoint Fluorometer
Nortek Aquadopp II
Biospherical PAR
Satlantic SUNA Nitrate
Seabird 43F Dissolved Oxygen
Wet Labs ECO, C-STAR
and SeaOwl sensors
ProOceanus Mini-Pro CO2 or CH4




* Other sensors can be integrated depending on sensor size and battery drain
For further information, download the MMP Data Sheet or Contact us.
Access MMP data from Ocean Observatories Initiative (OOI) research arrays including the Pioneer Array south of Cape Cod, Massachusetts, the Argentine Basin, Irminger Sea, Southern Ocean, Station Papa, and more.
Support
A complete MMP software distribution is available from McLane. The distribution includes the current version of the MMP Firmware, User Manual, Sensor Manuals, communication software, MMP data processing software, and a ballasting spreadsheet.
Quick link to MMP software
Visit our Library for a complete selection of MMP documentation and other product resources.
McLane offers a hands-on course in Moored Profiler operation. MMP owners and prospective owners are invited to spend one to two days at our facility.
Learn more about Support and hands-on product training.