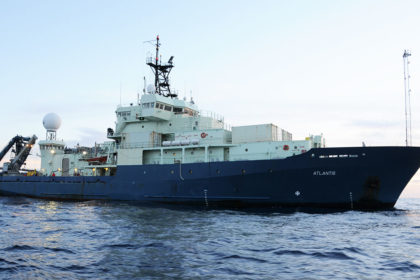 This month, McLane is headed to sea. General Manager Jon Mogul is on board the R/V Atlantis as it cruises out of Woods Hole to the Pioneer Array off the coast of New England. Also headed to sea is McLane Engineer Tom Fougere who will join researchers on the R/V Connecticut out of Woods Hole.
The R/V Atlantis cruise mission includes the turnaround of three McLane Moored Profilers (MMP) which are key pieces of the coastal Ocean Observatories Initiative (OOI) infrastructure. The crew of R/V Connecticut is headed for a Gulf of Maine deployment of two Environmental Sampler Processors (ESP).
The MMP vertically profiles the water column along a fixed subsurface wire carrying an array of sensors. The ESP is an in situ laboratory that collects and concentrates microorganisms or particulates from discrete water samples and automates the application of molecular probes to identify target species or toxins.
Contact us for more information about our Profilers, Samplers, and Flotation.
Photo: WHOI.