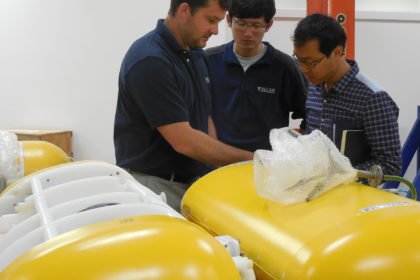 Customers from Germany, China and Norway recently completed instrument training at McLane facilities with our 15m test tank. Profiler and sampler training included mechanical, electronic and deployment programming components, and recovery/data offload procedures.
If you own a McLane profiler or sampler or are thinking of purchasing from our product line, hands-on product training is an ideal way to familiarize you with your instrument prior to deployment. Training at our facility in East Falmouth, MA USA is included at no charge with a new instrument purchase.
Sam Vohsen, currently with Pennsylvania State University came for a WTS-LV overview for a joint project with MPI-Breman. Our most recent visitor, Dr. Andrew Sweetman of the International Research Institute of Stavanger (IRIS) came to prepare for a sediment trap deployment in the Norwegian Sea.
Engineers from our sales representatives J. Bornhöft Industriegeräte GmbH (Germany) and Shallow Sea Technology Ltd. (China) received training on our new IFCB and ESP samplers, profilers, and met to discuss sales in their respective regions.
We encourage you to visit our East Falmouth, MA USA facility. For more information about product training, see our Support page or contact us.