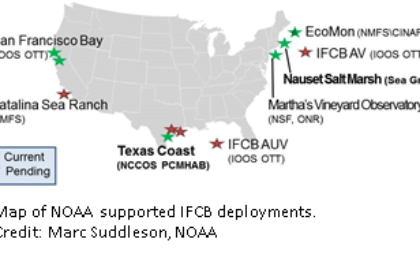 At a recent NOAA Emerging Technologies for Observations Workshop convened by the NOAA Observing Systems Council, McLane
IFCB
and
ESP
were highlighted as part of NCCOS efforts to provide early warnings as well as effective monitoring and forecasting of harmful algal blooms.
The NOAA Emerging Technologies Workshop was the first of a series of planned workshops aimed at instilling agility and infusing new technology in the NOAA observing system portfolio. The workshop goal was to promote broader awareness of emerging observing technologies, both sensors and platforms, which can be leveraged and transitioned to operations.
The Environmental Sample Processor (ESP) provides in situ collection and analysis of water samples from the subsurface ocean. The instrument is an electromechanical, fluidics system designed to collect discrete water samples, concentrate microorganisms or particles, and automate application of molecular probes in order to identify microorganisms and their gene products.  The Imaging FlowCytobot (IFCB) is an in-situ automated submersible imaging flow cytometer that generates images of particles in-flow taken from the aquatic environment.