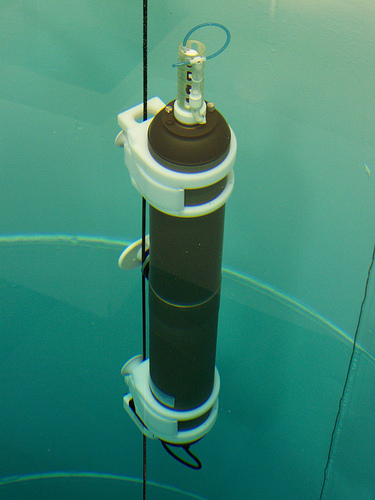 Brief Description:
The Ice Tethered Profiler (ITP) is an autonomous time-series instrument that vertically profiles the water column under the ice. The ITP collects in situ measurements of conductivity, temperature, and depth. Data can be automatically transmitted in near real time via inductive modem when connected to a surface controller.
Profiling depth, time intervals and pressure stops are user-defined, and profiling patterns can span specific seasons or timeframes.
Overview
| | |
| --- | --- |
| DEPTH: | 30 m to 1000 m (mooring dependent) |
| MINIMUM WATER TEMP: | -2°C water (non freezing) |
| PROFILING SPEED: | 25cm/sec (10cm/sec, 33cm/sec options available) |
| POWER: | Supplied 12 V lithium battery pack |
| BATTERY ENDURANCE: | 240Ah or 360Ah lithium battery pack |
| DATA TELEMETRY: | Seabird Inductive Modem |
SUPPORTED SENSORS*: 
Seabird 41PLUS CTD
Seabird 63 Optical DOX
Wetlabs ECO
Biospherical PAR
Aanderaa Optode DOX
 BBE Fluoroprobe Chlorophyll
ProOceanus Mini-Pro CO2 or CH4
Seapoint Fluorometer, Turbidity
*Other sensors can be integrated depending on sensor size and battery drain.
Quick link to Profiler Integrated Sensors chart
For further information  download the ITP Data Sheet or Contact us.
Access ITP data from the Woods Hole Oceanographic Institution (WHOI) Arctic program. Over 90 ITPs have been deployed in this program since 2005. Data is used for monitoring and modeling the Arctic climate's future state.
Support
A complete ITP software distribution is available from McLane. The distribution includes the current version of the ITP Firmware, User Manual, Sensor Manuals, terminal emulation software, ITP data unpacking software, and a ballasting spreadsheet.
Visit our Library for a complete selection of ITP documentation and other product resources.
McLane offers a hands-on course in Ice Tethered Profiler operation. ITP owners and prospective owners are invited to spend one to two days at our facility.
Learn more about Support and hands-on product training.