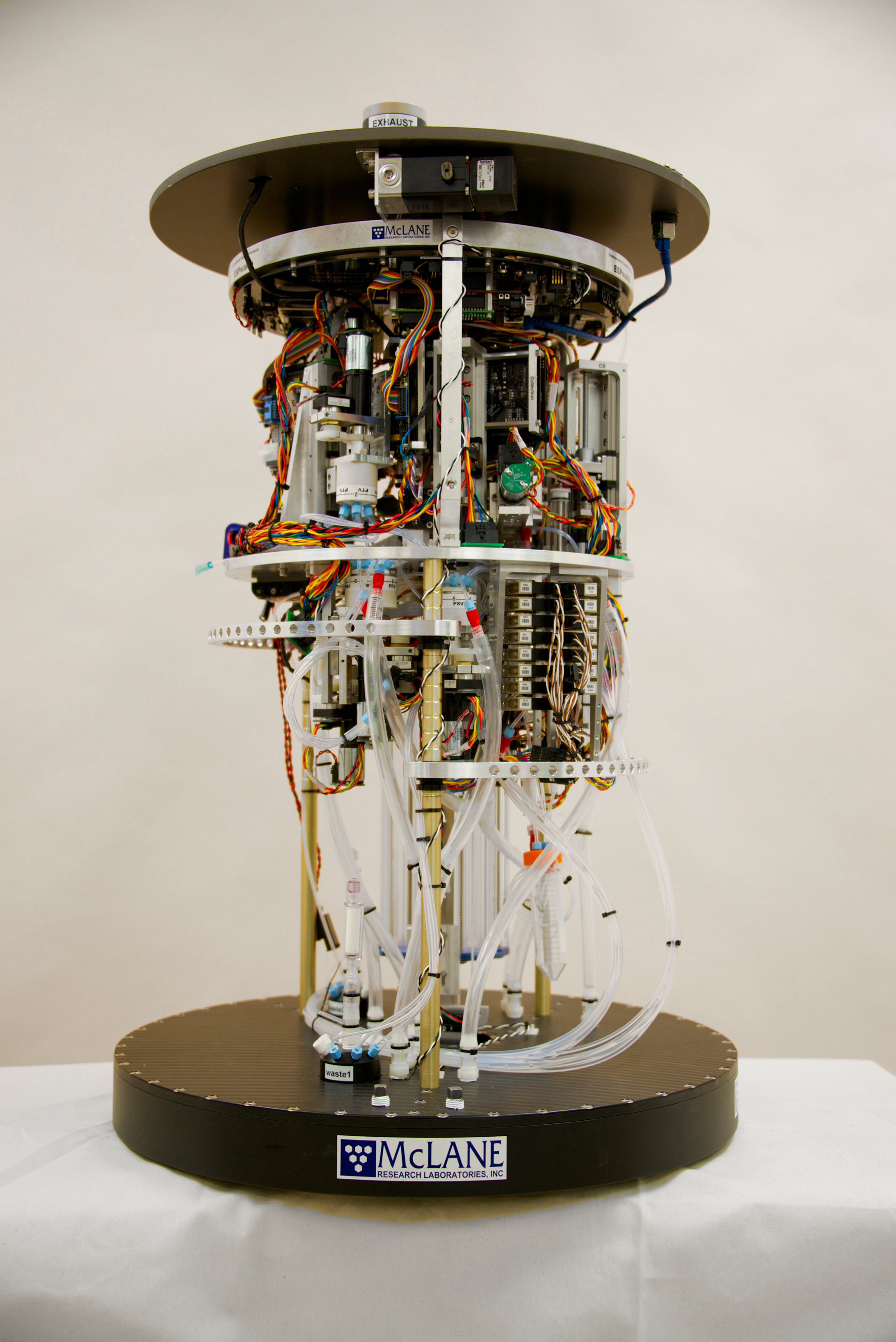 Brief Description:
The Environmental Sample Processor (ESP) provides in situ collection and analysis of water samples from the subsurface ocean. The instrument is an electromechanical, fluidics system designed to collect discrete water samples, concentrate microorganisms or particles, and automate application of molecular probes in order to identify microorganisms and their gene products. Data generated are then available for remote retrieval and analysis in near real-time.
The system is a modular design consisting of a core sample processor (the ESP), analytical modules and sampling modules. The core ESP provides the primary interface between the environment and a set of DNA and antibody-based sample processing technologies that are applied onboard the instrument in real-time. In addition, the ESP can be used to archive samples for a variety of analyses after the instrument is returned to a laboratory. The system provides expandability to allow installation and control of secondary analytical modules for parallel processing of collected samples.
Overview
| | |
| --- | --- |
| ASSAY METHODS: | Sandwich hybridization (SHA) and Immunosorbent assays (cELISA) |
| PUCK CAPACITY: | 132 pucks (up to 44 phases) |
| DEPTH: | Maximum depth of 50m with addition of ESP Pressure Housing |
| TEMPERATURE RATING: | 4 ° to 29 °C (depending on reagents deployed) |
| MAX DEPLOYMENT TIME: | 3 months |
| POWER: | 10 – 16 VDC |
Nucleic acid probes for these organisms are available for use with the Sandwich Hybridization Assay (SHA) chemistry on the ESP: Pseudo-nitzschia australis Pseudo-nitzschia multiseries / Pseudodelicatisima Pseudo-nitzschia pungens Alexandrium catenella.
For further information, download the ESP Data Sheet or Contact us.
Click here to see an example of multi-year ESP Data.
Support
A complete ESP manual is available from McLane. Contact us for more details.
Learn more about Support.
For specialized moorings for the ESP, please contact our partner EOM Offshore.